Pesticide Action Week 2016
France&nbsp
agriculture&nbsp
community&nbsp
announcements&nbsp
by Tim Willmott : Comments Off on Pesticide Action Week 2016
20-30th March 2016
The Pesticide Action Week, curated by French organisation Générations Futures, is an annual and international event, open to everyone, with the aim to promote alternatives to pesticides. The campaign takes place during the  first ten days of every spring (20th-30th of march) when the spreading of pesticides usually resumes.
The goals of this event are:
Raising awareness on the health and environment risks of synthetic pesticides
Highlighting and promoting alternative solutions
Building a global grassroots movement for a pesticide-free world
After the success of the 10th year with more than 1,000 actions in 20 different countries, the Pesticide action week will be back for its 11th year from March 20th to March 30th 2016. You can download the new call to participate and spread it through your networks in order to let more organizations and people know about the event and encourage them to join the Pesticide action week by organizing an event.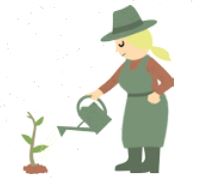 2016: A year dedicated to health !
For its eleventh year, the Pesticide Action Week will focus on a specific issue: Health !
We do not want to let all the other issues out and of course everyboday can organise events related to biodiversity, natural gardening, organic food, agricultural techniques, soils…but we want to mainly focus on informing about the impacts of pesticides on health and how to promote the alternatives for a better health.
We would also like to get closer to the medical world in order to raise  doctors, midwives, nurses, obstetricians' awareness about health and environnment so that environnement related diseases will be more taken into account.
This « health focus » will also be a good opportunity to put pressure on decision makers so that they implement real policies to reduce the use of pesticides and protect people and professional's health !
The call to participate is also available in both French and Spanish in case you need it in those languages.
Download and use the 2016 communication tools !
The 2016 poster: Here you can download the 2016 poster in order to print it and use it for your events!
The 2016 logo to put on your email signature, on your communications…
Register for the newsletter on the website homepage – you can read an example here
See our national and international partners list here
Related articles across the web